How to Use a Wire Container
PHS

What is a Wire Container?
A wire container is one of the most versatile and functional storage solutions on the market. They can move up to two tons of material at one time using a forklift truck, saving an abundance of time at the workplace. One of the biggest advantages of using wire containers involves their space-saving capabilities. Not only do they safely stack four containers high utilizing wasted air space, but they can also be collapsed and folded flat to put into storage when they are not being used.
Each wire basket is coated with a zinc finish and includes a half drop gate that makes it easy to load and unload parts, supplies, or whatever is stored inside. They can also be customized to include casters, lids, and dividers, making them the ultimate storage solution for any type of company.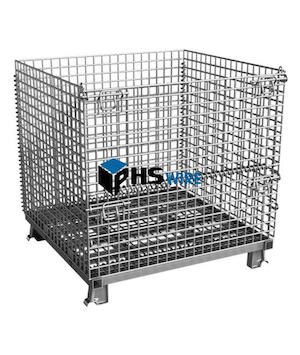 Not only are wire containers beneficial for saving storage space, but they also are the safest way to protect your product. The wire used in these containers is extremely sturdy, making it highly unlikely to damage what is inside. Plus, since dust cannot collect on wire, if an accidental fire occurs, water will easily filter through to the lower stacked units. This greatly reduces fire hazards and insurance issues, not to mention reduces the stress on you!
Who uses Wire Containers?
Any type of warehouse
Any industry that requires in-line assembly work
Any industry requires work-in-process parts transfer
What are the Benefits of using Wire Containers?
Wire design makes contents easy to identify
No dust collection (reduces fire hazards)
Very durable
Saves space
No moisture collection
Comes in various sizes
Can be customized to fit your company's needs
How to use a Wire Container? EASY!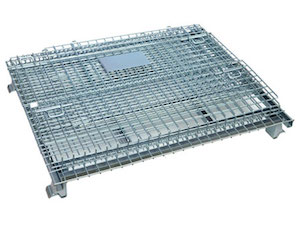 Step 1. Unfold and secure the container
Step 2. Fill the container with product/supplies
Step 3. Use a forklift or lift truck to move the containers
Step 4. Transport or stack to preferred location
Wire containers are an essential key to an effortlessly organized warehouse. Premier Handling Solutions is one of the world leaders in the wire container business. Be able to choose from several sizes and different customizable options while getting the best shipping rates in the U.S.