Material Handling & Wire Containers in Tommy Boy
PHS
Anyone who knew and loved Chris Farley has got to be a fan of Peter Segal's 1995 classic American comedy, Tommy Boy. Farley plays an antagonistic, recent college graduate who moves home after seven boisterous years at Marquette University to work for his father's auto parts company. Upon his arrival, he is surprised with news that his father, "Big Tom" is engaged to a beautiful swindler named Beverly.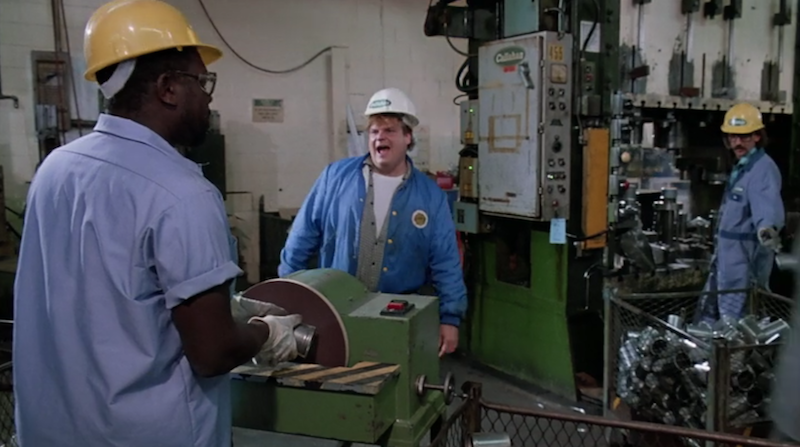 When Big Tom dies of a heart attack on the day of his wedding, the future of his company goes into jeopardy as Callahan Auto had some serious debt. Before Big Tom's death, the bank agreed to grant a loan to the company for a new brake pad division to help pay off some of the debt. Tommy then offers the bank a deal: he will personally allow the bank to hold his inherited shares of the company in exchange for supporting brake pad sales. In addition, the company will prove its ongoing reputability by selling 500,000 brake pads. Tommy volunteers Big Tom's crabby assistant, Richard (David Spade), to join him on a cross-country sales trip to save the company from foreclosure by the bank.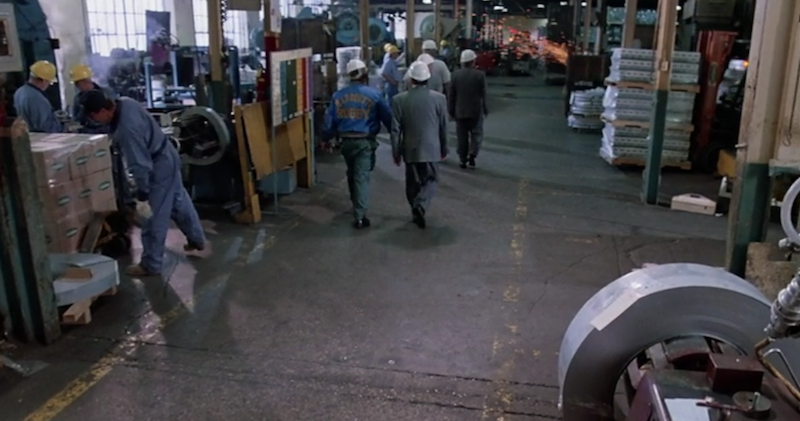 Slowly but surely, Tommy discovers his underlying success as a salesman, while gradually establishing a friendship with Richard. Married con artists Beverly and Paul, however, secretly sabotage the company which results in Callahan Auto being sold to Zalinsky Auto Supplies. In the end, between Tommy dressing like a suicide bomber and Beverly's and Paul's police records, Tommy gains back his inheritance and is able to call off the deal with Zalinsky. We can only hope that thereon after, Tommy was able to carry on his father's legacy and successfully operate Callahan Auto…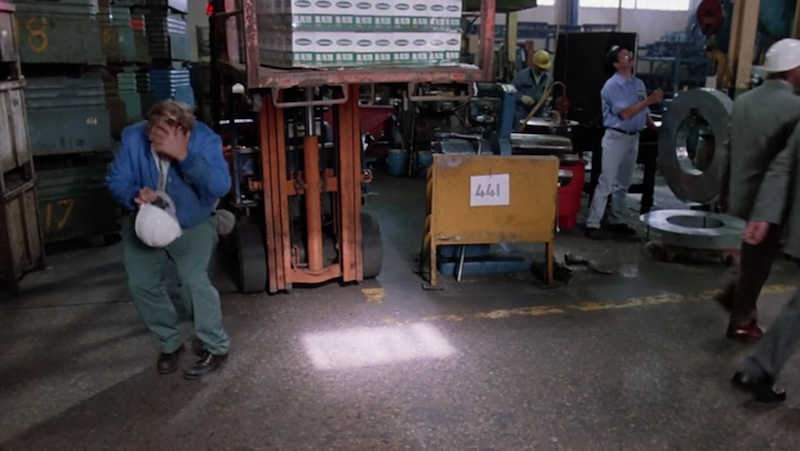 Despite Tommy's clumsiness and incapacity to avoid accidents, the warehouse at Callahan Auto is quite efficient. A full walkthrough of the large facility is shown at the very beginning of the film. Organization is the key to their warehouse functionality with how packed full of equipment it is. Although it's a crowded warehouse, every section of the facility is color-coded and properly lined with floor and caution tape, with beautiful rows of organized pallet racks. The organizational habits of this warehouse make for a safer facility overall. Each employee wears a safety helmet, safety goggles, and proper attire for their job. The building is swarming with beautiful, custom-logoed heavy machinery, pallet inverters, and forklift trucks galore. All of the surrounding employees appear to be happy at work, proving that a safe and organized warehouse results in happy employees and an overall better environment to increase sales for the business.